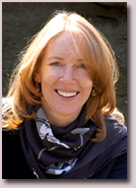 As a child I was consumed with adventure stories, fairy tales, and real life accounts of people who had traveled around the globe. My father, Charles Alley, was a chemical and aerospace engineer, an amateur astronomer, and a marksman. Early in his life, he had jumped trains during the Depression, and later signed on with an icebreaker sailing to the Far North. He became the first Caucasian to survive a climb to the top of Mt. Fujiama in the winter, and at the time of his death he was purported to be the oldest competitive aerobatic pilot in the world,

It was my dad who inspired my interest in travel and the exotic. I flew planes, soloing on my 16th birthday, shot guns from the age of five, and raised a variety of wild animals in my home, monkeys, an anteater, skunks, a proverbial zoo.

We'd travel each summer to Gueydan, my father's hometown in Louisiana, where Cajuns spoke French, and we'd feast on boiled crayfish and Blue Point Crabs. We'd seine in the Gulf of Mexico, and swim in muddy canals and bayous where huge, spiny, snapping turtles the size of small round tables and poisonous water snakes swam freely. Far north of my father's hometown, we'd run through the northern woods, chasing armadillos through dense, wet foliage, feeling like explorers in the Amazon. It was all very mysterious, and felt a little forbidden. I loved it.

My father, whether it was teaching me to fly, or how to avoid a black water moccasin, was always conscientious and prudent with his instructions towards safety. As a girl, I was forced to take an extra hunter-safety course. Guns were dangerous. And while learning to fly my father would have me perform countless touch-and-goes, and put me through a gut-wrenching exercise of stalls. I believe these challenges helped me later in my life. And to this day, I remain a studious, if not, cautious traveler.

Vivian Schmid, my mother, was a bright, beautiful, and equally inquisitive soul who shared my father's love for nature and adventure. Upon her death, it had been her wish to scatter her ashes in Yosemite National Park, where we spent each summer, as a family, camping. She had left home at age 14, after repeated abuse. I was astounded by her resolve to never abuse her own.
Because of her strength, generations after her would benefit. I don't think she really ever understood the depth of her feat. Still she was a woman who loved poetry, letter writing, and had an intense and empathetic interest in others.

My husband of 30 years, Ron Howard, was an actor when we met. But I believe it was his passion for story that really drew us together. Although Ronny doesn't quite share my enthusiasm for the Middle East and Central Asia (was a bit nervous when he first learned of my desire to travel there) he has always supported my need to suss out a story.

As I reflect, I realize that I've always gravitated towards the unusual. I enjoy differences, be it race, culture, traditions, politics, or spirituality, but especially the state of mind of an individual. It all fascinates me.

So there you have it, I was born in Glendale, California in December of 1953, had two sisters, two parents, and a slew of animals. I went to university, received a B.A. degree in Psychology and eventually a Masters of Fine Arts degree in screenwriting. I married my high school sweetheart at the age of 21, and had four children. I didn't start writing until the age of 22 and English was never my strong point. But I do, dearly, love a good yarn. Especially, if afterwards, I'm just a little more aware of the world around me.