Researching the Face of Jinn
There were three extensive research trips to the areas portrayed in the novel. The first involved a trek by car and by camel through Rajasthan, and the Thar Desert. I toured with a guide for three and a half weeks in January of 1996, seeking lodging and locations that I felt my character would inhabit.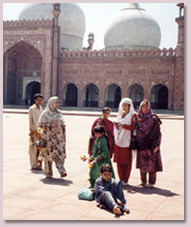 In April, I had an opportunity to travel to Pakistan with my friend's family. Which was fortuitous, since I was having no luck finding a touring company who was willing to take me into such a volatile area. I had the honor of staying with my friend and his family in their village of Lala Musa. Ali is the youngest of eight. Like his family there in Pakistan, he has never been formally educated. We drove in an over packed van (there were 10-15 of us) to visit his very large family and many friends in other cities and villages along the Indian/Pakistan border. Ali's sister (who was pregnant with her fourth child) died of infection after childbirth while I was there. My friend's family is poor and the hospital in Lahore was three hours away.

Ali's family is a rather humble one, but diverse in nature and occupation, from petty smuggler to dedicated religious devotee. During this single month, I witnessed a kind of spirituality and superstition that I had never experienced before. Frankly, some of what I saw was beyond rational western explanation. During my visit there I also encountered family friction, loving acts of compassion, devotion to Allah, and a tragic death. I began to understand the dramatic differences between the ways of Muslim men and women in Pakistan, and I was expected to respect these differences. My experience with my friend's family was gratifying and enriching. It taught me to appreciate the region in the most human terms, to embrace both the differences, and the tremendously relatable similarities in our mutual cultures. The next research visit, however, informed the novel in a much more intense and even violent way.

In October and November of 1997, with the help of a retired CIA operative, I traveled to the North West Frontier on the Afghan border and initiated a three and a half week adventure in the company of two ex-military officers of the Pakistan army. Their job was to guide (and smuggle) me through the tribal areas of the country, exposing me to places where visitors, especially Americans, were officially forbidden.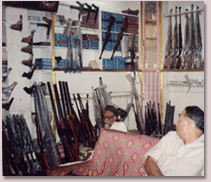 I visited gun bazaars, where I fired illegal automatic weaponry, and visited artillery craftsmen and drug dealers' compounds. I ultimately took a truck ride over the notoriously porous border into Afghanistan. This was just months prior to the nearly total takeover by the Taliban.

The predominant concerns in the tribal areas were meeting up with a particularly agitated extremist or being kidnapped for ransom (my research told me that the usual sum was $20-35,000 for a journalist or tourist). I had researched enough to know that any time I was going through precarious areas, bribery and going in unannounced, staying for only a f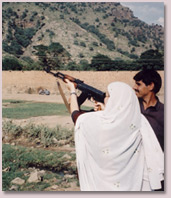 ew hours, and then leaving with no information given of where I was headed, was my best bet of avoiding that situation. When going through the militia points (illegal for foreigners), or fundamentalist's areas like Landi Kotal where even local women, straying from their family's compounds, are frowned upon, I managed to stay anonymous by staying covered up in a tent-like garment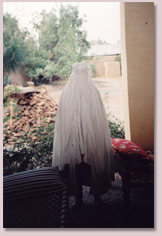 (traditional Islamic dress) called a burqa. With only a small grid to peer through, I traveled alone in the company of a retired Brigadier General and a Major of the Pakistan army. Lots of bribery and a bogus story that I was interested in buying a T-shirt factory in Abbottabad proved critical in my safe passage. Ultimately, the carrot of long-term business prevailed over any thoughts of ransom. The tribesmen, at least the tribesmen I came across, turned out to be more merchant than extremist "Mushallah." Thank God.

My time in the North West Province proved to be informative and fascinating, as I had hoped. But when I first returned home, I was in a bit of a funk. My initial draft was unfairly dark, and I finally had to admit that I had probably experienced some kind of culture shock. I've always considered myself a strong woman, but enduring the oppression, brief as it was, made me realize that I was merely a strong "American" woman. It was a humbling revelation. Still, the hospitality of the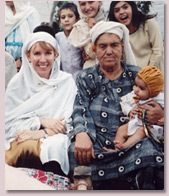 villagers in the Punjab Province towards a complete stranger was often tolerant, even indulgent, and I found myself torn between revulsion and complete adoration of my experiences and the people in that region.

Later, as I found my way through draft after draft, I realized that were so many stories I wanted to impart- especially of the beauty of the people in India, Pakistan, and Afghanistan. But also of a mindset, a dangerous and extremist mindset that America, and the world, cannot ignore. But in order to deal with it effectively, it is my belief, that Islam, and the people, all the people, must be better understood.

Back to the Book